Kurō Akutagawa
Race
Shinigami
Birthday
December 12
Gender
Male
Height
6'0"
Weight
122.3 lbs.
Blood Type
A
Professional Status
Affiliation
Gotei 13, Soul Society
Occupation
Lieutenant of the Sixth Division
Team
Sixth Division
Partner
Sayuri Kuchiki
Base of Operations
6th Division HQ, Seireitei, Soul Society
Personal Status
Relatives
None
Zanpakutō
Shikai
Chōji
First Appearance
Voices
Kurō Akutagawa is the lieutenant of the the
6th Division
, serving underneath
Sayuri Kuchiki
.
Appearance
Edit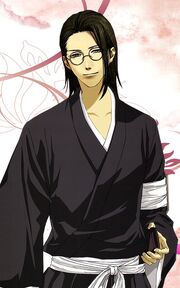 Kurō is the bespectacled lieutenant of the
Sixth Division
, and the only Shinigmi to wear glasses since the departure of
Madoka Akimoto
. He has long dark brown hair and light brown caring eyes.
Kurō's uniform usually consists of dark black hakama, a white yukata, a short dark green yukata, and a darker blue haori tied closed with a dark black obi which holds a set of katana. He also wears white tabi and a pair of zōri.
Personality
Edit
Powers & Abilites
Edit
Zanpakutō
Edit
Chōji (Japanese for "Butterfly"):