Dantè
Race
Human (Fullbringer)
Birthday
August 26
Age
15-16
Gender
Female
Height
152.4 cm (5'1")
Weight
96 kg (211.7 lbs.)
Blood Type
A
Professional Status
Base of Operations
Warehouse, Karakura Town, Human World (formerly)
Personal Status
Primary Skill
First Appearance
Voices
Dante, sometimes spelled Dantè is a Fullbringer and the first introduced in the series. She is the youngest of her group, but is considered the strongest.
Appearance
Edit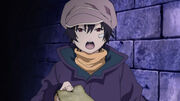 Dante has a somewhat androgynous appearance, as she appears to look like both a girl and a boy in several ways. She has short dark black hair that is combed in a messy, unkempt style and crimson-red eyes. She often wears baggy clothing, which covers up her feminine figure, and tends to change her clothing style often. However, even when she changes her clothing, she keeps three details the same. Dante keeps the white bandage stripe underneath her eye, her yellow scarf, and her dark maroon cap.
Personality
Edit
Dante is a bubbly personality. She is often high-spirited and cheerful, though she can easily become mad.
Powers & Abilities
Edit
Fullbring
Edit